Undo, the centre of expertise for tattoo removal.
We are the leaders in tattoo removal that will remove your tattoo safely and completely in the least number of treatments. How do we do it? With the most advanced equipment, with tailor-made treatments and fully specialized skin therapists and laser specialists. As a result, we have countless before and afters to prove it!
✓ #1 tattoo removal clinic in the Netherlands
✓ PicoWay laser
✓ Least number of treatments
✓ No scar tissue
✓ Suited for all skin types and ink colours
✓ Clinics in Amsterdam, Rotterdam, The Hague and Utrecht
✓ Certified skin therapists
Make an appointment online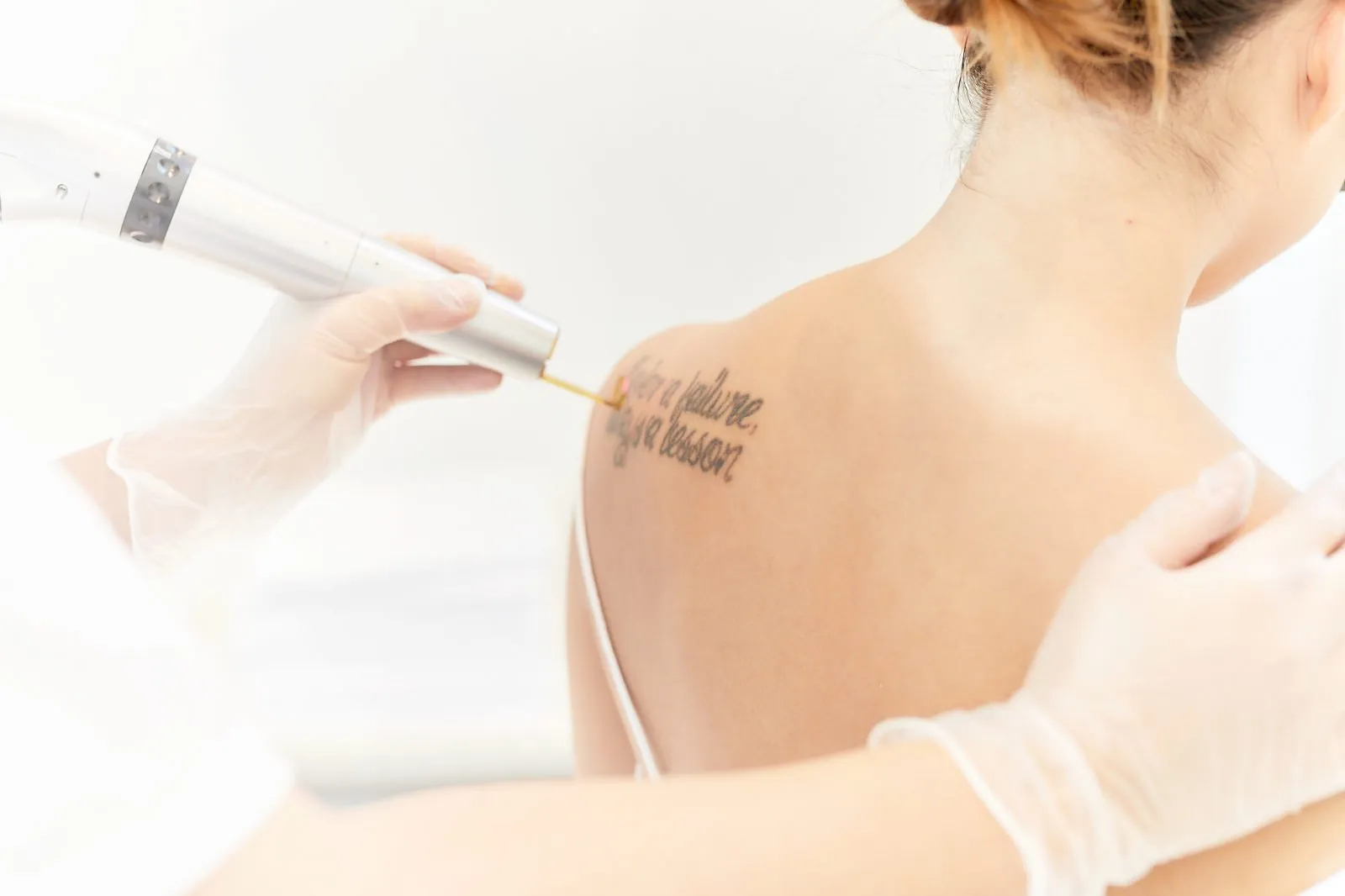 Why Undo?
Tattoo removal by the professionals
At Undo you are at the right place to have your tattoo removed quickly, safely and completely by certified laser specialists and certified skin therapists.
With 5 clinics fully dedicated to tattoo removal we have the most experienced team in the Netherlands.  In addition, we are the only clinic to offer tailor-made treatment plans carried out by real experts, assuring that your tattoo will be removed in the least number of sessions and without scars. Our friendly staff will take their time to inform you thoroughly and guide you through the process as pleasantly as possible, as testified by our many reviews.
Our team of specialists only work with the most advanced picolaser available, the PicoWay. Because the PicoWay (still) has the shortest pulse duration of all picolasers, it is the best choice for tattoo removal. Hence the PicoWay is regarded worldwide as the golden standard for tattoo removal, as demonstrated by its award for "Best energy based treatment".
Buy a gift card 🙂
Tip:
Drag the photo from left to right to see the result!
Professional laser clinics
Where can you find us?
We work with certified skin therapists and laser specialists. We are located in Amsterdam, Rotterdam, The Hague and Utrecht, so there is always a location near you!
Undo | Tattoo Removal | PicoWay
Email: Info@undo.nl
General telephone number: 085 004 3391
WhatsApp: 06-41607008
Tattoo removal Amsterdam
Van Woustraat 101H
1074 AG Amsterdam
Tattoo removal Rotterdam
Nieuwe Binnenweg 91
3014 GG Rotterdam
Tattoo removal The Hague
Hooikade 13
2514 BH Den Haag
Tattoo removal Utrecht
Nobelstraat 18
3512 EN Utrecht
Our locations
reviews
Wat mensen over ons zeggen
Ik ben heel blij dat ik bij Undo Amsterdan terecht ben gekomen om mijn tattoo te laten laseren.
Alles wordt altijd goed uitgelegd door de huidtherapeuten.  Het zijn allemaal ontzettend lieve mensen en daarnaast ook nog eens ontzettend professioneel. Echt een aanrader.
Gaby Blaaser
3 years ago via facebook
I had a great experience with Darisa. Super friendly and knowledgeable. She explained everything clearly and made sure to answer any questions before the procedure. I really appreciated her talking me through the procedure since this was my first experience with laser removal.
Veronica
2 years ago via salonized
Altijd goed bij Undo! Wordt op mijn gemak gesteld tijdens de behandeling. Goed schoon en kundige dames!
Tamara
2 months ago via salonized
Friendly welcome and during the treatment you are being told what is going to happen. Really nice and helpfull staff.
Annelies
2 months ago via salonized
Third session went really great! I'm already seen the results and I couldn't be happier!
Paola
9 months ago via salonized
Easy to find, amazing specialist, fun and knowledgeable staff members. My procedure has been explained to me in all the details and the following treatment went smooth and fast.
Arsenijs
2 months ago via salonized
Superprofessioneel, vakkundig en fijn. Voelde me helemaal op mijn gemak, alles werd rustig en goed uitgelegd. Heel blij mee!
Madeleine
7 months ago via salonized
Very profesional and kind staff! Answered all my questions patiently and walked me though the process with a smile 🙂 Procedure itself less painful than I imagined
Oliwia
7 months ago via salonized
Very good- clear and great interpersonal skills as well as technical. Super clear explanation of how the treatment works.
Anita
9 months ago via salonized
Ik word altijd vriendelijk geholpen, ik kom hier niet alleen om mijn tattoo weg te laten halen maar ook om mijn haren te laseren. Mooie, schone zaak en beveel het iedereen aan om hier te komen; dit komt door de professionaliteit, de lieve meiden die hier werken en uiteraard direct resultaat.
Isabella
10 months ago via salonized
Why undo
10 reasons why Undo is the best clinic for you
✓ #1 tattoo removal clinic in the Netherlands
✓ PicoWay, the laser with the shortest pulse of the Netherlands
✓ Tailor made treatment plans
✓ Least amount of treatments
✓ Suited for all skin types and ink colours
✓ No scar tissue or discolouration of pigment
✓ Certified skin therapists and laser specialists
✓ FDA-approved
✓ Holographic fractionated after treatment
✓ Scientifically proven results
✓ High customer satisfaction (see the review page)
Read more about our methods